TW0 SQUARES
Proposal for a Competition for a Millennium site specific Artwork in Akureyri.
The work is supposed to commemorate the 2000 year anniversary of Christianity in Iceland and the discovery of North America.
(1 of 5 works chosen for further execution. Not completed.)

Site: Stórhólmi islet/hill.
A beautifully situated site affording a clear view in all directions, over Eyjafjörður (fjord), to Akureyri, Kaldbakur....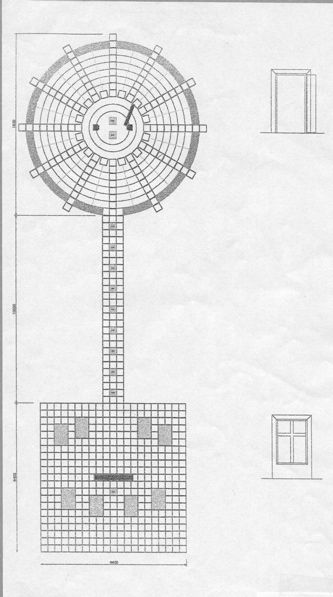 The work is composed of two squares, one rectangular, the other circular, connected by a path. In the middle of each square is a piece of sculpture: a door and window, respectively.
These familiar architectural forms are planted in the middle of nature, where they are freed from their former values and become vehicules for new ideas.
The Window and Door here refer to the ideas and actions of man that led to new customs and the discoveries of new territories a 1000 years ago.
Text: B.Ó. Translation: G.S.